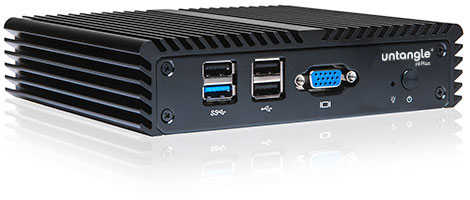 The Untangle NG Firewall z4 Plus is built for small networks, branch offices and retail locations. Ideal for networks with 10-50 users, this appliance includes the same features as our most popular appliance, the z4, and includes additional RAM and storage capacity. The increased RAM allows for superior performance when running NG Firewall with multiple apps simultaneously, including SSL Inspector, Application Control, Web Filtering, Virus Blocker and Intrusion Prevention. With 256 GB of storage, the z4 Plus allows network administrators to store ample reporting history helping businesses and organizations easily meet any regulatory or compliance related requests.

Appliances ship with the NG Firewall software platform pre-installed, including all the free apps and a 14-day trial of all the paid apps. Easily add a subscription to the NG Firewall Complete package for a comprehensive network security solution.

This appliance is also available as Hardware as a Service. Gain all the benefits of using this appliance to protect your network for a low monthly price. Learn More.

Not sure which appliance is best for you? Contact us today.

*Shipping outside the U.S.? See available destinations.
Tech Specs
| | z4 Plus |
| --- | --- |
| Recommended Users | 10 – 50 |
| Processor | Intel Celeron Quad Core |
| RAM | 8GB |
| Storage | 256 GB mSATA SSD |
| Interfaces | 4x GbE |
| Wireless | – |
| USB Ports | 4 |
| Built-in LCD | No |
| Video | VGA |
| Dimensions (w x d x h) | 6.1″ x 5″ x 1.4″ (156 x 127 x 37mm) |
| Unit Weight (lbs) | 2 |
| Shipping Weight (lbs) | 4 |
| Form Factor | Fanless Desktop |
| Firewall Throughput | 950 Mbps |
| NGFW Throughput* | 500 Mbps |
| Operating Temperature | 32° – 122°F (0° – 50°C) |
| Power Supply | 12V3A Adapter |
* NGFW throughput is measured with Application Control, IPS, Web Filter, Virus Blocker and Reports.
Ships with power adapter and cable, VESA mounting brackets and screws, and rubber feet.
Notes
Cost-effective, desktop, network security appliance that saves energy and space.

Get zero touch deployment through Command Center for easy license provisioning and remote configuration.

Includes one year hardware warranty.

Add a software subscription to meet your needs. Unlimited NG Firewall Complete subscriptions are tied to the hardware and are only transferrable to like Untangle hardware.

Untangle Live Support (on the hardware or software) must be purchased separately as either a standalone Live Support subscription or as part of Complete package.

During the first 15 days after receipt of your appliance, you may request a performance upgrade to the next larger appliance. If approved, you will be charged a restocking fee of $150 or 10% of the purchase price, whichever is greater, plus the difference in price between the appliances.

Please see our Return Policy and Warranty.