Startups are fueled by many things, not the least of which is pizza. Whether its consumed during late nights over a keyboard or in the harsh light of day on a makeshift conference table, pizza goes unchallenged as the top choice for communal eats. We decided to put the Valley's pie-slingers to the test. We chose from pizza purveyors in a 5 mile radius of Untangle HQ.
The Contenders (in alphabetical order)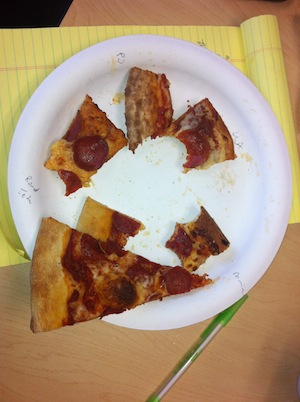 Domino's
Papa John's
Pizza Hut
Pizza My Heart
Round Table
The Challenge
Deliver a delicious, piping hot medium pepperoni pizza.
The Blind Taste Test
This is where the rubber met the road…or the grease met the mouth, as the case may be. We had a number of self-declared pizza aficianados amongst us, so opinions were flying fast and furious. The pizzas arrived in a 60 minute window, with Dominos leading the pack and Papa John's bringing up the rear. Pizza Hut was the low-price leader, coming in at $12.19 for a 10.5″ medium. On the high end, Round Table commanded a whopping $20.31 for the same size. Would the flavor live up to the price?
While we noticed the deliveries coming and going, we were shielded from seeing the pizza boxes to keep the results unbiased. All pizzas were presented to the team on plates numbered 1-5, and each of us kept tasting notes. After we were sated, our stack rankings and tasting notes were compiled.
The Winners…And Losers
Right off the bat, differences in pizza quality were obvious. Some crusts looked deep fried, while others looked wood-fired. The pepperoni was clearly a differentiator as well, ranging from thin-sliced circles to thick, concave salami cups. All pizzas arrived in serviceable condition: warm or hot, kept flat and undamaged.
Based on Ranked Choice voting, one pizza trounced the competition. From best to worst:
Domino's
Papa John's
Pizza My Heart
Pizza Hut
Round Table
Pizza #2, as it was known during the challenge, won us over with its herbed crust, balanced sauce and quality meat. When it was revealed to be Domino's, we were quite honestly shocked.
The Comeback Kid
Amongst the testers, Domino's was remembered dimly from years ago. Square slices of flavorless pizza-food-product delivered in 30 minutes or less…could this be the same pizza? But Domino's has been undergoing some serious changes in the last few years. In a 2009 survey of consumer taste preferences by research firm Brand Keys, Domino's ranked dead last…tied with Chuck E. Cheese's. Domino's got the message, and has changed everything about themselves but the name. They tried dozens of cheeses,15 sauces and 50 crust-seasoning blends over two years. The result? A highly palatable pizza. And it still arrived in 30 minutes or less.
National taste-test leader, Papa John's, has stuck fast to its winning formula. It ranked a close second, followed by hometown heroes Pizza My Heart. Pizza Hut was immediately identifiable by its fried crust and noncommittal flavor. Round Table, on the other hand, was mistaken for movie theater or Target pizza…not a ringing endorsement. It remained largely uneaten.
Pizza 2.0
As VP of Sales & Marketing, I'm a sucker for a brand story, and Domino's definitely delivered. They listened to their customers, first and foremost. When it became obvious that "30 minutes or less" wasn't going to cut it if no one actually wanted to eat the pizza, they took a look at their mission statement and decided to overhaul the product. Is it really Pizza 2.0? You bet. They blogged their turnaround with CEO commentary, made YouTube video documentaries, tweeted, and did the morning talk show circuit. The social engagement helped them get their message across: "We hear you." Isn't that what any great brand does? They listen to their customers and try to open a dialogue. They constantly reinvent themselves to keep pace with changing market conditions. They remember that quality and a great product matter most.
– Amy