Untangle Appliances are the easiest deployment option.
Buy online, plug it in & go.

Untangle® tackles every edge-of-network concern to keep your systems running smoothly and your users happy and productive. Our appliances are designed to scale with you, enabling you to turn applications on or off as your needs change and grow — with no license user bands to worry about. And our industry-leading interface brings drag-and-drop simplicity to administrative tasks.
Untangle Appliances at a Glance
The u150, u500, m1500 and m3000 feature LCDs in the front panel display with hostname, CPU load, internal IP address, external IP address, and Untangle UID. All appliances ship with power adapter, power cord, ethernet cable and USB drive for system recovery. The u150, u500, m1500 and m3000 also ship with rack mount brackets.
u10
u50
u150
u500
m1500
m3000
Base Price
$995
$1495
$2895
$6395
$13,695
$22,495
Processor
Intel Atom® single core processor
Intel Atom® dual core processor
Intel Pentium® dual core processor
Intel Xeon® quad core processor
Dual Intel Xeon® quad core processors
Dual Intel Xeon® six core processors
RAM
1G RAM
2G RAM
4G RAM
16G RAM
16G RAM
16G RAM
Hard Drive
160 GB
7200 rpm
160 GB
7200 rpm
500 GB
7200 rpm
500 GB
7200 rpm
1 TB
7200 rpm
1 TB
7200 rpm
Ethernet Ports
Four gigabit ethernet ports
Four gigabit ethernet ports
Six gigabit ethernet ports
Eight gigabit ethernet ports
Eight gigabit ethernet ports
Eight gigabit ethernet ports
Dimensions
7.1"(W) x 5.9"(D) x 1.65"(H)
11.8"(W) x 5.9"(D) x 1.73"(H)
17.25"(W) x 11.5"(D) x 1.73"(H)
17.20"(W) x 18.00"(D) x 1.73"(H)
17"(W) x 22.8"(D) x 3.5"(H)
17"(W) x 22.8"(D) x 3.5"(H)

Customize

Customize

Customize

Customize

Customize

Customize
Why an Appliance?
Easiest, most cost-effective deployment option. Discounted hardware and software renewals mean you're getting the best possible deal.
Come with the software package of your choice (Standard, Premium) included in the price and already installed on the hardware.
Priced without user bands, so you don't have to worry about incurring incremental cost. Your price is all-inclusive.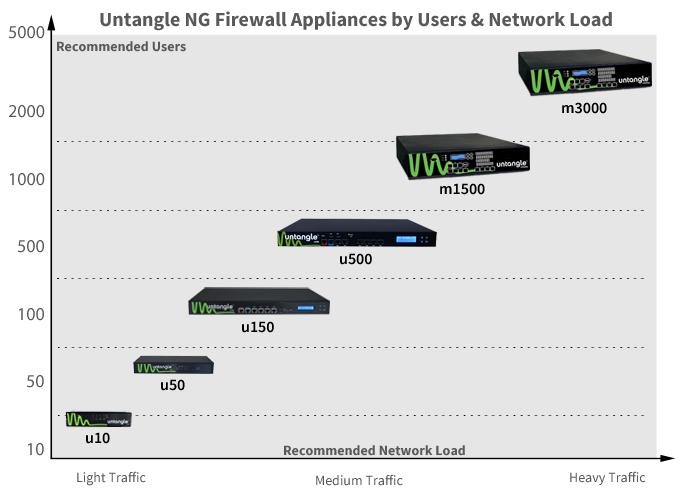 FAQs
Modular Platform
Each appliance comes with your choice of Standard or Premium Package installed. Either way, you'll enjoy being able to customize your deployment with our suite of applications for security, content filtering and remote connections. With Premium, you'll also get superior virus blocking, spam blocking and a complement of performance management applications.
Designed for Simplicity
We carefully designed every appliance to be easy to set up, configure and maintain. The average install takes less than ten minutes out of the box. Just plug it in, attach a USB keyboard and VGA monitor, and turn it on. We'll guide you through the rest with our on-screen install wizard. We've even color-coded the external and internal ethernet ports.
Always Current
Your appliance comes with a subscription to Standard or Premium Package which you can renew each year. Because Untangle is subscription-based, you'll always get updates, patches and improvements at no additional fee. You'll also benefit from new applications as they are released – also without additional cost.
Powerful At Any Size
Whether you need to support tens or hundreds of users, we've got the right appliance for you. The uSeries covers small businesses, remote or branch offices, medium businesses, enterprise divisions and campuses. The mSeries covers medium businesses, small enterprises and larger campuses. Regardless of the appliance you choose, you get the same enterprise-grade applications and the backing of our Live Support team.